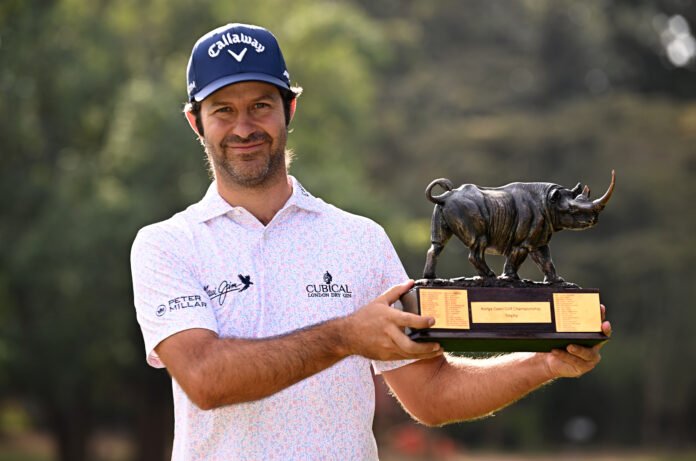 Jorge Campillo claimed his third DP World Tour title as he won the Magical Kenya Open presented by absa by two strokes.
The Spaniard was seeking his first victory since the 2020 Commercial Bank Qatar Masters, almost three years ago to the day, but showed no sign of nerves as he carded four birdies on the front nine at Muthaiga Golf Club.
In spite of a bogey on the par three 11th, cancelling out his fifth birdie of the day on the tenth hole, the 36-year-old held a three-stroke lead on the 18th tee. Campillo finished with a par to sign for a five under par round of 66 and an 18 under par total, two strokes clear of Japan's Masahiro Kawamura.
Campillo added his name to the trophy alongside his compatriot, the late, great Severiano Ballesteros, who won the tournament in 1978.
View this post on Instagram
Kawamura recorded his best finish of the season as he finished runner-up on 16 under par. Spain's Santiago Tarrio and Ryo Hisatsune shared third on 15 under.
Campillo said: "I was trying to focus so I couldn't enjoy the moment (walking down 18). You never know in this game. It was a good day to be able to finish the day good, having the lead is not easy and it's such a special feeling to win a golf tournament. The crowds were quite fun here and you know the history of the tournament is quite nice as well.
View this post on Instagram
"I played great all day, beside that little short putt I missed on 11. It was a good day, after missing that putt I knew I had to play good to win the golf tournament with some tough holes coming up and that birdie on 17, obviously I didn't win with that birdie but I was definitely closer.
"It's nice to win three tournaments. I remember coming here on the Challenge Tour, my second Challenge Tour event in 2011 I played this golf course. I never dreamed I would come back here and win my third golf tournament on the DP World Tour, it's such a nice feeling.
"It's hard to put my name with those names (Woosnam, Immelman, Ballesteros). With where I'm from, the little town I'm from. I'm very proud. It's always nice to win a golf tournament, but if you have a name on the trophy with Seve it's more special for a Spaniard."