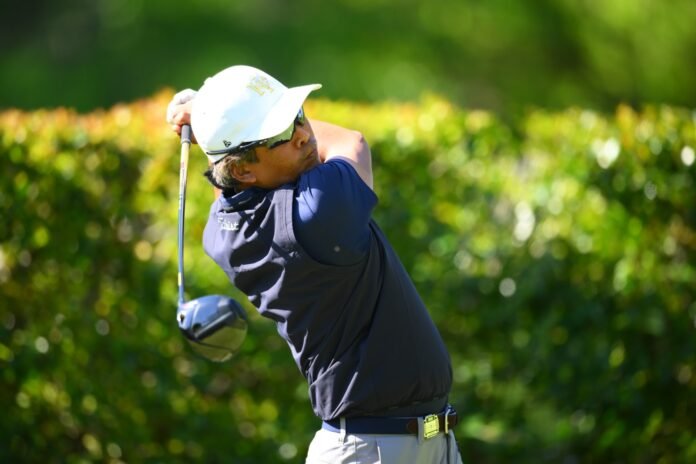 Philippines' Juvic Pagunsan is hoping to ride out what has been a roller-coaster season on the JGTO season so far.
The 45-year-old opening round at this week's Golf Partner Pro-Am Tournament where he fired a six-under-par 64 could be the catalyst to a smoother journey after 'hanging in' there since the start of the season in Japan.
Related: Brad Kennedy on path to redemption at Toride Kokusai
Starting his campaign on the Toride Kokusai Golf Club's East Course, Pagunsan recovered brilliantly from an early bogey on the fifth hole by recording seven birdies over a 10-hole stretch, starting from the seventh.
He finished in a seven-way tie for sixth and end the day only two shots behind the leading trio of Tsubasa Ukita, Keisuke Ozaki, and Taiko Nishimaya.
This marked Pagunsan's best first-round display since he shot a 66 and finished joint third after the opening round of the Mitsui Sumitomo VISA Taiheiyo Masters in November last year.
View this post on Instagram
Pagunsan, who secured his sole JGTO victory at the 2021 Gateway to The Open Mizuno Open, has been struggling to impress so far, making the cut only twice in four starts. His best result was a joint 35th place at The Crowns last month.
"It was a good round and a nice comeback," said Pagunsan.
"The first five holes were not really good as I was one over, but I managed to save par on the sixth and then turned things around with birdies on seven and nine.
"After that, I really hit it well. The hot weather doesn't affect me much since I'm from the Philippines, so it feels normal.
"My season so far has been up and down. Sometimes I play well, sometimes I play poorly. I'm still there, hanging in there. It's manageable."
If Pagunsan's performance from last season is any indication, he certainly has the ability to bounce back.
After making only three cuts in his first 11 starts, he showed significant improvement by missing the weekend action only once in the following 10 appearances, including a tied-fifth finish at the Panasonic Open, his best result of the season.
American duo Han Lee and Shintaro Ban, a QT graduate also had a promising start, carding matching 65s to be tied for 12th.
View this post on Instagram
Once again, 22-year-old Ukita proved his worth by taking an early lead for the second time this season.
He shot an impressive bogey-free 62 comprising eight birdies.
Last month at the Kansai Open, he caught everyone's attention by tying for the lead and remaining in contention throughout the week, ultimately finishing in a commendable joint third place.
"As a rookie, I've been performing well so far this season, especially at the Kansai Open. I'm getting used to playing on Tour, so I don't feel much pressure," said Ukita.
"I have just celebrated my birthday on Tuesday, so let's see if I can give myself a nice birthday present by winning the tournament this week.
Ozaki and Nishimaya were the other two relatively unknown players who performed well in the first round.
Still seeking their first JGTO breakthrough, Ozaki showcased a mixed scorecard with an eagle, seven birdies, and a bogey.
Nishimaya, on the other hand, lit up the West Course with an eagle and six birdies.