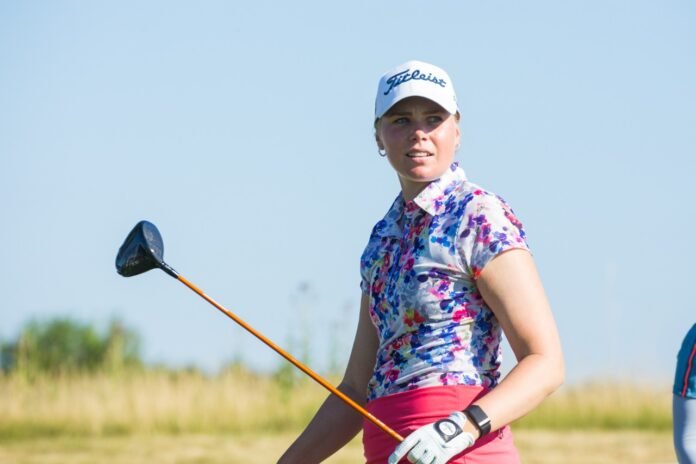 Sweden's Jessica Karlsson holds a one-shot lead over compatriot Maja Stark at the end of the third day of the Amundi German Masters.
After completing her second round this morning, Karlsson had a four-shot lead with a total of 13-under-par and this afternoon, she added a third round of 71 (-1).
Related: Weather no dampener on Jessica Karlsson's free-flowing golf
The 29-year-old dropped a shot on the third hole but bounced back with a birdie on the 10th before making another bogey on 13.
However, back-to-back birdies on 16 and 17 ensured the Swede kept her lead intact as she sits on 14-under-par with one round left at Golf & Country Club Seddiner See.
"It was okay," said Karlsson, whose best result on the LET is finishing in a tie for fifth place. "I struggled a bit on the greens today but from tee to green it was good.
View this post on Instagram
"I am just going to try to hit every shot as good as I can tomorrow and make sure that I can stay focussed."
Three-time LET winner Maja Stark sits in second place on 13-under-par having fired a third round of 67 (-5) on Saturday afternoon.
The 22-year-old, who is second in the 2022 Race to Costa del Sol, rolled in five birdies on her front nine before making three birdies, a bogey and a double bogey on the back and be in contention once again.
"The day felt like it flew by. I was enjoying it a lot and I think it was nice to finally have some action in my round and not just have pars and a couple of birdies. I got to play a lot today," said Stark.
"I think us Swedes hit pretty far, there are a few reachable par-fives where you sometimes have to hit over a hazard, and we can reach over them.
"I always want to try to win and I think seeing my game today, I made a few stupid mistakes so I think there is a lower round in me tomorrow."
View this post on Instagram
Four shots behind the leader are Spain's Carmen Alonso and Germany's Leonie Harm, who are tied for third place on 10-under-par having carded rounds of 67 and 69, respectively.
Alonso, who was bogey-free in Round Three, said: "Today was a really long day, I played 26 holes. I'm three shots behind, but I'm happy and really happy with my game and how I hit the ball. I had a lot of chances for birdie, so we will see tomorrow."
Harm dropped a shot on the third but rolled in birdies on six and eight to make the turn in 35 (-1) before she added three more birdies and one bogey on the back nine.
"I enjoyed it out there," said the 24-year-old. "It was fun to play, I like the course and it's fun to play in Germany because the crowds are a little bit biased. They're still fair but favouring me a bit!
"I took a little 15-minute powernap just before lunch, after I got in from my second round, and I was just trying to get some more energy for this afternoon.
"Tomorrow will be tricky going into a final day from behind but still in a good position. You feel like you have to out-do yourself to post a low one, but I'm going to take it one shot at a time and play the best golf I can play in the moment."
View this post on Instagram
Five players are in a share of fifth place on nine-under-par including three-time LET winner Linn Grant, home favourite Olivia Cowan, Czechia's Klara Spilkova and Scotland's Laura Beveridge.