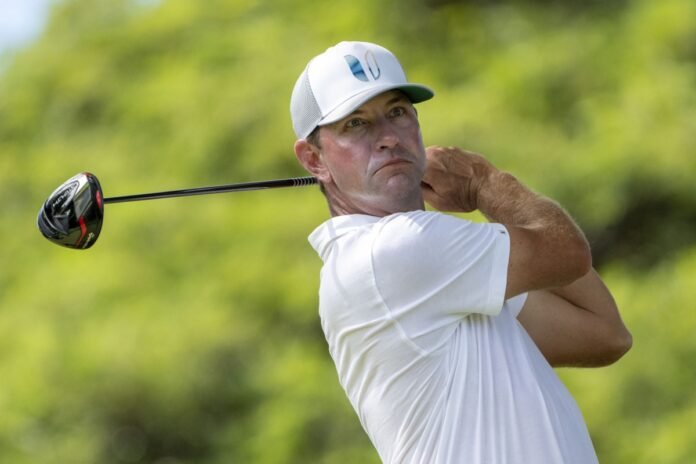 It's the week of the John Deere Classic, and as is the custom, defending champion Lucas Glover made the customary visit to the media centre. Excerpts from the interaction:
We would like to welcome the defending champion Lucas Glover to the interview room here at the John Deere Classic. Lucas, welcome back. What's it like as you're entering and seeing your face all over the signage?
Lucas: Scary. I've apologized to everybody for having to see that on their way in and out of the course every day. But, no, it's good. They have done a very nice job of welcoming me and us back and wouldn't expect anything else here. They do such a great job. That's just what you would expect here. Class event, class community and very grateful to be the defending champ here.
View this post on Instagram
As you're walking around are there any specific memories that are coming back from the win last year?
Lucas: Yeah, just playing well, making a bunch of good swings and some pretty clutch putts coming down the stretch. Played the back nine yesterday and made a bunch more
birdies and I said, Well, this, maybe this is my nine holes or something, I don't know, I couldn't really figure it out. But just a sense of calm out there when you've done well and
have some experience and success at a course or a hole or a tournament.
View this post on Instagram
With last year's win entering back in the winner's circle what confidence did you gain with your game?
Lucas: Not much. I haven't played very well since. But — no (laughing). Just same thing I said last year. Just after a 10-year drought for winning, just believing I could do it and that it was still in there and still capable.
Related: Anirban chases golf history, more moolah after PGA Tour's tweaks
You talked on the phone a minute ago about a setup change, something you had been working on. If you could just kind of open that up a little bit and tell us what you've been working on and what you're feeling good about.
Lucas: Yeah, no, it was just having trouble hitting my shot, my shot shape, which is a draw. Found out just in my setup my weight was way too far in my heels. Trying to get it more in the middle of my feet to enable the rest of my body to do what it's supposed to do. I know that's kind of technical — it is for me anyway — so a little different. I feel like I'm leaning almost over the ball. So last week was the first week taking it into competition
and it was good to make the cut and nice to get some reps, but definitely was different.
View this post on Instagram
You touched on your 10-year drought and then you came here and you won again. You kind of jokingly said you haven't played well since then. What confidence does it give you being back here and what are you trying to prove and accomplish this weekend?
Lucas: Defend. Same thing. Every week. Wednesday afternoon everybody's tied at zero. So everybody in the field sets out to win. Just because I did it last year doesn't mean I'm entitled to anything or I'm one ahead or one behind or anything like that starting tomorrow, because everybody's tied. So just want to keep working on what I'm working on, but at the same time able to channel some of those good vibes from last year. Saw the ball go in the hole a bunch and I love the greens here. So anything, any time you've had
success you can draw on it. But at the same time I still have to execute and like I said, nobody's entitled to anything as of today.