Young Ojaswini Saraswat lit up AEPTA Dhaula Kuan as she carded a 3-under 69 to take a huge lead in C Girls on Day 1 of competition in this category at the NCR Cup 9th Junior Golf Tournament, presented by the Delhi Golf Society, on Wednesday.
The gap is yawning as Dalisha Chetry, who is next after Ojaswini, carded a 84 and is followed by Abner Sengar with a 92.
Related: DGS Camp of Excellence pupils start strong in 9th NCR Cup
The boys in this category are tightly packed with a shot separating the top-three. Arnav leads with a 77, and is followed by Samar Baijal (78) and Raajveer Suri, Vedant Paul at 79.
It was Day 2 at work for the Amateurs, and Vijayant Pundir maintained his lead by posting a 75 to add to Tuesday's 76 for a total of 151. Seven shots back is Yash Suhag at 159 (81, 77) and Arjun Dabas 161 (80, 81).
Delhi Golf Society's Camp of Excellence student Sukhman Singh kept the proceedings under control in A Boys despite floundering with a 79 for 151. Yesterday, he was level-par. There is a tie at 153 with Yash Chaudhary and Vihaan Reddy in a keen tussle after identical scores of 77 and 76.
View this post on Instagram
Among A Girls, Amreen Sandhu surged ahead for a two-shot lead at 156 (77, 79). She is followed by Preitisha Gill 158 (81, 77) and Sharanya Sah 161 (82, 79).
DGC Camp of Excellence pupils Ranveer Mitroo and Udai Aditya Middha share the top-two spots in B Boys. While Ranveer has a two-day total of 154 (78, 76), Udai is a shot back with scores of 77, 78. Arjun Dahiya and Vivaan Aggarwal tie at 160.
Zara Anand, another name from the DGC stable, kept up the good work to shoot level par on the heels of yesterday's 71 to total 143. She has a 11-shot lead over Riya Jadon at 154 (75, 79) and Yogya Bhalla 157 (78, 79).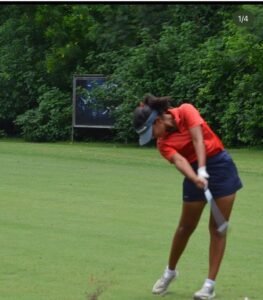 Chaitanya Pandey, Mudit Aggarwal and Rudhra Pratap Bhati make the top-three in C Boys, while Naina Kapoor is the early leader in C Girls. She is followed by Rehnoor Malik, Shiksha Jain and Smira Bhambri in a tie for the second spot.
Among the tiny tots, Ojasv Saraswat shot a 3-over 39 for a shot's lead over Avviraj Kalia and Upraj Singh Mehendiratta (40) in E Boys.
In E Girls, Dhriti, Rehana Malik and Juno Kalyani make up the three-player field.