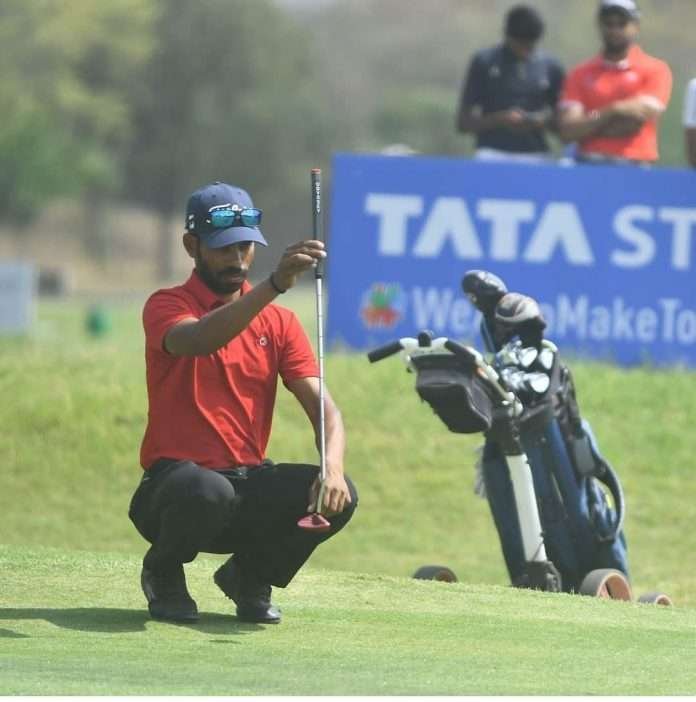 An empty pocket hands out a lot of lessons. For Shivendrasingh Sisodia, the Rs 100, that was all he had at one point in 2016, was impetus enough to keep pursuing his dream of playing pro golf at PGTITOUR with the knowhow that he had no safety net to fall back on.
There was an easier route as well. One, that entailed striking a balance between practice and working as a coach in a golf course tucked away somewhere between Gurgaon and Faridabad. His earnings were enough to sustain the family of four despite a substantial chunk of the salary going into taking care of his golfing needs. But going off the boil every now and then despite a win on the Feeder Tour was hurting Shivendra as he tried to balance responsibilities and chasing the dream.
He quit as coach in 2016 and plunged headlong into intense practice under coach Pritam Saikia despite being admonished by the extended family. What mattered for Shivendra was his wife and children were firmly behind him in what would be a landmark decision.
Also Read:- Techno music and Ramen, Rahil's way of beating the blues 
The association between pupil and coach Saikia has bloomed with time and is spoken of with reverence by Shivendra. The past few seasons have seen the odd crest but that has had little bearing on the regimen at the Golden Greens Golf and Country Club, which often stretches from dawn till late evening.
There were plenty of hurdles as well to throw Shivendra off balance. The biggest impediment was the cash crunch which aggravated manifold with tournaments drying up during lockdown. To make matters worse, a motorbike accident almost did not allow him from teeing up for a couple of pro pools during this phase, and it was to Shivendra's credit that he turned up swathed in bandages and even won once.
There is admittance all the time that but for Saikia and help from The Ultimate Foundation he would not have waded through this phase. The build-up to the #delhincropen2021 last week was like any other but ended the way Shivendra had long yearned for.
A score of 12-under, T2 finish and a much-needed cheque of Rs 2,24,950 in these lean times. The mind at rest for the time being, Shivendra reflected on the key putting lesson from Saikia just before tee-off on the final day.

View this post on Instagram

"Since I had been missing short putts the first three days, I asked Pritam sir to have a look," says Shivendra. Some adjustments were made to the posture and the athlete from the land of the Rajputs was seen off with the words, "Go for it." Shivendra did his coach's bidding, missing just one green (Hole 8) through the round that came to an end in a way he hadn't anticipated. Birdie-eagle his card read through Hole 17, 18 but he had to endure some anxiety as well. Spotting Saikia stationed right behind the flag on the 18th triggered nervousness but also refreshed the memory and brought back the lessons at the practice green. The mind went blank momentarily as the three-feet putt went in, but reality gradually registered that perhaps this trying phase is over.
Photo credit: Shivendra Singh Sisodia
More Read:- Life on Tour with Rahil Gangjee